The cost of your periodontal and implant treatment may vary depending on your individual needs and treatment plan. We will discuss with you the cost of your treatment and each of your available payment plan options before you begin treatment so that you can make the best choice for you and your smile.
Dental Insurance vs. Medical Insurance
Unlike medical insurance, dental insurance has strict yearly maximum coverage amounts. The amounts are typically less than your overall periodontal treatment will cost. In order to maintain the highest standard of quality treatment, we do not participate with insurance plans.
Affordable payment options
Your smile is yours forever, and we want to make it as easy as possible for you to receive the best periodontal care. We work with multiple financing companies to help you obtain the best arragement. You can even get prequalified here:
Although we are out of your insurance network, we will help you utilize the most from your insurance discount plan.
We are pleased to offer Care Credit financing.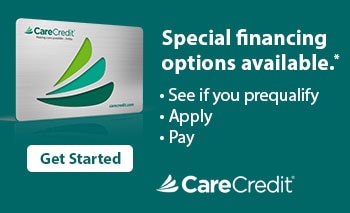 Our dedicated administrative staff is here to help you.
Please let us know if you have any questions about financing your treamtent, and let us know how we can help to make your entire periodontal experience a pleasant one.